Ribbon Cutting - Silver Lake Bank
Ribbon Cutting - Silver Lake Bank
Wednesday, February 1, 2023 (11:00 AM - 12:30 PM) (CST)
Description
As Silver Lake Bank celebrates its 55th year as a family-owned bank, it is opening a new loan production office in Overland Park.
"This office underscores the business growth we've experienced in the Kansas City area," said Patrick Gideon, President and Chief Executive Officer. "There is a hunger for a strong community bank with a focus on helping businesses grow."
"We were fortunate to connect with the perfect person to be our market president. John Geiger is an experienced and trusted banker, lender, and market president in the Kansas City area, and we couldn't be happier to have him leading our new location in Overland Park."
Geiger is well established in the Greater Kansas City market with more than 30 years of commercial banking experience and previously served as Market President and Chief Credit Officer for two other financial institutions until each one sold.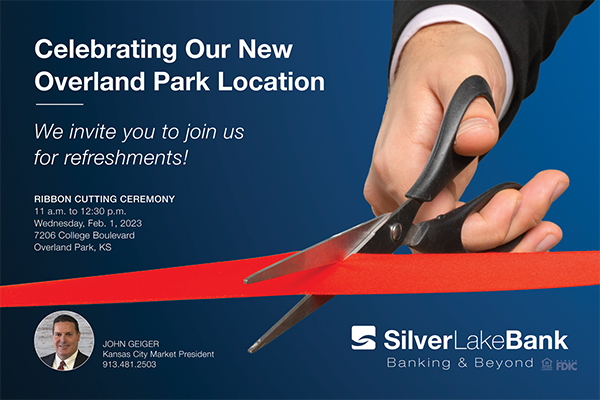 Silver Lake Bank
7206 College Boulevard



Overland Park

,

KS

66210

United States



Equity Bank Southeast Corner of College/Metcalf
Wednesday, February 1, 2023 (11:00 AM - 12:30 PM) (CST)
Categories
Ribbon Cuttings